The Initial Idea
The idea of creating a student-led blog as part of our Australian Speculative Fiction project came up fairly early on. Requiring students to write blog posts seemed to be an ideal way to encourage them to engage more intimately with the material and create a platform where students' ideas could be shared. An added benefit was that the blog could prepare them for one career trajectory which English literature graduates may find fulfilling employment within.
Blogging can be an excellent way to transmit the knowledge we gain at university to a broader public – and it can also be a lot of fun! That's why we expected students to be as excited about the project as we were, and we were certainly proven right. So – we were ready to go. The only thing missing was a platform, but that would be easy – get a WordPress website, use the Centre for Australian Studies website as our platform… simple.
You'd think so.
You'd think we would have been ready to start this blog as soon as the course began (summer term 2020).
Ideally, this would have been a straight line from the first conception to the actual blog.

Getting There
Unfortunately, though, initiating a blog is a little bit more complicated than just coming up with an idea and getting started, especially if students are going to be involved. As soon as we got talking to our legal department and data protection experts, we realised that what we assumed to be just a small hurdle was actually the tip of the iceberg.
Since the blog is primarily, albeit not exclusively, intended for use as part of a course – in our case "Exploring Australian Speculative Fiction" and its accompanying Praxismodul "Blogging Australian Speculative Fiction", there are a number of precautions we need to take:
Make sure students know that they are signing up for a public blog – it has to be voluntary after all!
Make sure that there is an appropriate Impressum and ways for people to contact you
Make sure that there is a suitable data protection declaration and that there is a data processing contract between the university and the platform you plan to use
Data, in case you're wondering, can be the nickname or even the email address your students are using to register – even if they're not public, even if that's literally the only thing that is being processed… you still need a contract.
Getting a contract can be a lengthy process, so we knew it wasn't going to happen in the summer term 2020.
However, we persisted. We kept in contact with both the legal and the data protection people, and eventually found the HHU blogfarm to be the perfect outlet for the course blog – as it is already associated with our Heinrich-Heine-University!
In the end, our journey looked a little bit more like this: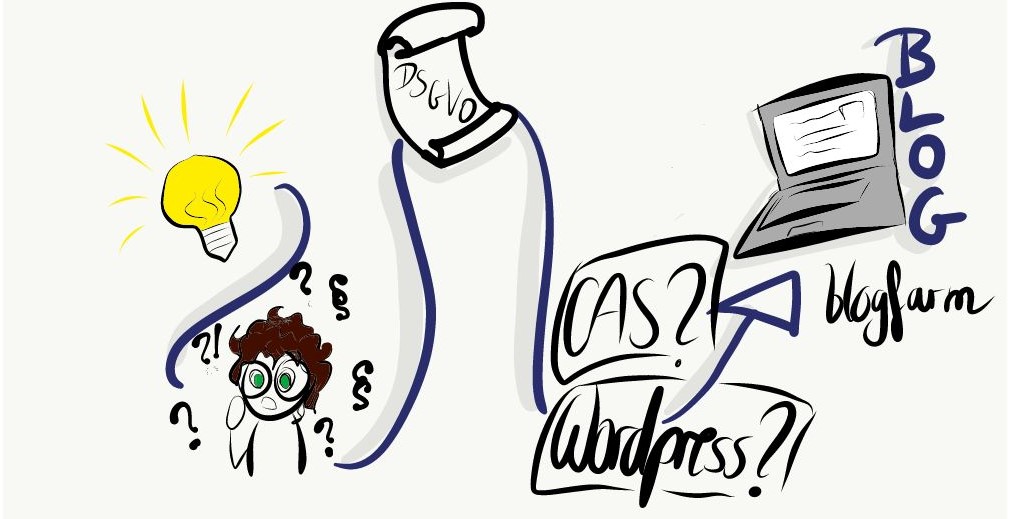 But we got there in the end!
The Blogging So Far
That does not mean, however, that our previous two iterations of the course (still called "Charting the Australian Fantastic" at the time) had to make do without blogging. Luckily, our e-learning platform ILIAS also has a blog option – it isn't public, but it has some other advantages, namely that our students managed to get some useful peer feedback before even considering publishing on a public blog, so we will probably keep the blog function as a way to pre-prepare blog posts for publication going forward.
We made sure to have suitable practical elements in each version of the course despite the lack of a public platform. For example, we conducted some thought experiments in Zoom meetings with our students to talk about what you would need to open a blog and even generate revenue from it. Our experiences with the legal requirements and preliminary preparations really helped us to explain the realities of blogging to our students.
The first term of blogging proved to be a success. Students proved to be engaged and interested. One of them even managed to snatch an interview with an Australian fantasy author! (Jay Kristoff!)
In the second term, we had the idea of introducing a student editorial team, consisting of Samantha Saur, Melissa Teschen, and Anika Klose, who all did tremendous work. This allowed the three volunteers to gain more experiences when it comes to the editorial process – a field of work all three are interested in – and it made for an even higher quality output. Our editors went above and beyond in getting their peers organised and even came up with a well-structured and organised publishing plan that ensured the blog posts were in a very logical and narratively sound order! A recommendation to our fellow lecturers, though – if you do decide to start blogging as well (and as long as you're from the HHU's English department, you're very welcome to do it on this blog) and want to bring in a student editorial team, DO take into account the amount of work this means for the students and adapt their course work requirements accordingly!
The Blogging Going Forward
So thanks to our previous ILIAS-blogging, we already have a decent-sized corpus of student blog posts at the ready. We have sent emails to all of the previous participants, offering them spots on our new public blog – those are the blog posts that will mostly fill the coming summer months until the winter term, when we will start a new Praxismodul course where students will be able to post here throughout the term.
In addition, we are offering this blog as a platform to students who have been inspired by their classes and wish to elaborate on any given topic in a public space – without the pressure of graded term papers. So far, we have the section "Thoughts on Translation", which may be of use to our MA students in the Literary Translation Degree as well as the section "Further Courses and Topics" – arguably the most flexible section.
We're looking forward to your contributions – and we hope that you'll follow this blog with as much interest as we do!