It was mere chance and a heavy dose of good luck that made me notice Gillian Polack's twitter appeal to find more Jewish Australian writers of science fiction and fantasy – as she could only list four so far on her blog, including herself! Being a scholar of Australian Speculative Fiction in Germany in particular, I knew at once that I had to ask her for more information.
I couldn't have made a better decision.
Gillian was immediately kind enough to offer a meeting via zoom so she could give me some pointers to start with my research into Jewish Australian Speculative Fiction Writing and my first preparations to teach at least some examples in our online class. Not only did this lead my colleague and I to include her novel The Time of the Ghosts in our course on "Blogging Australian Speculative Fiction" – from whose students you will hear on this blog very soon!
No, we also started planning an extraordinary online event – a conversation between the four Jewish Australian Speculative Fiction writers Gillian had already listed on her blog. Gillian got us in contact with Jack Dann, Jason Franks, and Rivqa Rafael, while we took care of German bureaucracy (forms… lots and lots of forms to fill out).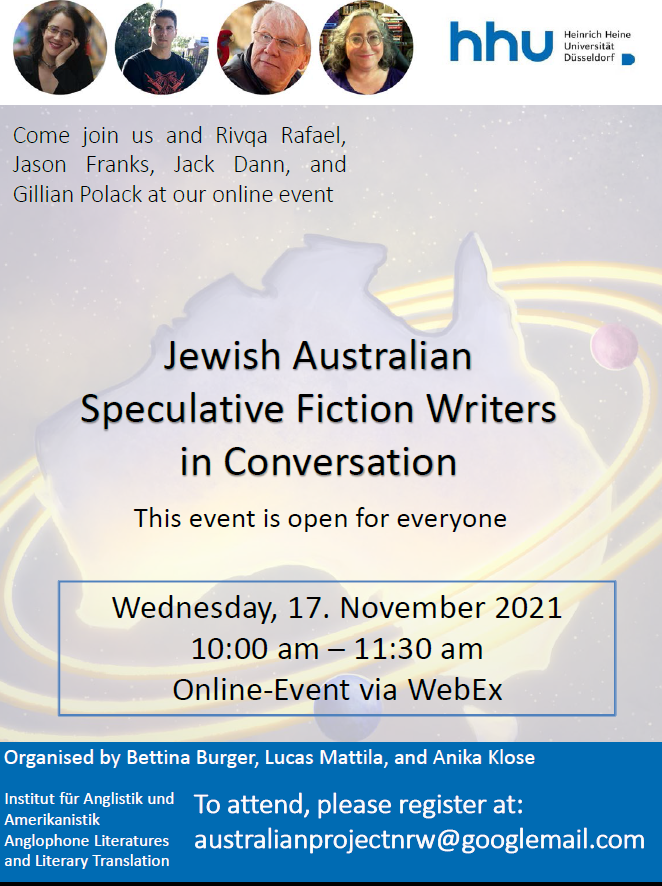 And soon enough, a date for the event was finalised (thanks, doodle!) and we were able to start forcing kindly asking our students to register!
On Wednesday, 17th November, at 10am (MEZ), we will meet with Gillian Polack, Jack Dann, Jason Franks, and Rivqa Rafael on WebEx to talk with them about their writing – and of course, we invite anyone who is interested to join us!
If you'd like to attend, please register at: australianprojectnrw@googlemail.com – we'd love to see you there!