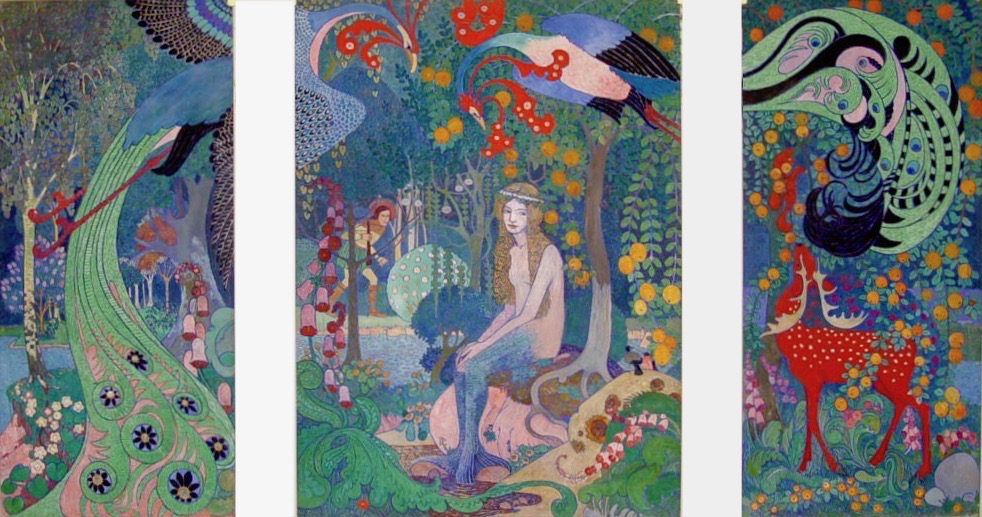 Not Like Other Sirens – The Melusine's Craving for a Human Soul
Tales of water-associated women, resembling a dragon, fish, or snake, have made appearances in one way or another all over the world. Mentions of sirens, mermaids, figures like the Medusa, to name some of them, aren't uncommon. But the Melusine, who shares some features with these mythological beings, also vastly differs from them.
Appearing as a normal woman, the foundress of the Lusignan line, a medieval chatelaine and matriarch during six days of the week, the Melusine was cursed by her mother Presine to transform into a serpent, or fish, from the waist down once a week. While other monstrous beings like the siren lured men into traps, effectively murdering them, the Melusine craves for a pure human soul.
The Mother Dragon
To achieve the life she longs for, she must keep her fairy-self hidden from her husband. Her transformations all depend on the betrayal by the male figures in her life. First by her father who broke the promise not to see her mother in childbed, and later by her husband Raymond who spies on her in her monstrous form while she takes a bath. As a result, Melusine is forced to turn from a half-fairy to half-serpent, or half-fish, sometimes even depicted with wings, and lastly into a dragon.
Not only is she burdened with having to give up on her chance of becoming human, but the Melusine also must let go of her husband, status as a noblewoman, and her home. The biggest sacrifice she has to make, aside from relinquishing her human-self, however, is letting go of her children. While she stays away from her husband, she nevertheless continues to visit her children occasionally, even as a dragon, not fully a monster, but a caring mother instead.
Jewish Fairy, Jewish Soul
Over the years since the story of the Melusine was first told by Jean d'Arras, the events and the half-fairy's appearance have been retold and changed many times. She continued to capture the interest of different cultures all over the world, who adapted her to fit their image and even today, the Melusine still appears in literature and other forms of media.
The Time of the Ghosts by Gillian Polack is only one example in which the Melusine plays a huge role in modern times, but it proves to be an interesting comparison to the old medieval texts that first explored the history of the half-fairy.
In the medieval texts, the Melusine often didn't only crave to be human, but also for a final Christian death once she had managed to acquire a human soul. The situation in The Time of the Ghosts is similar. While Lil, who is the Melusine in the novel, longs to be human as well, she does not crave a pure Christian soul, but a pure Jewish soul instead.
One of the biggest differences to Jean d'Arras' Melusine is that Lil is able to give up on her immortality and her winged serpent form. She does so by choice at first and isn't forced to take on her serpent form at all. On the contrary, Lil can't take on her fairy form at all throughout most of the novel, even if she tries several times. She does succeed at the end of the novel due to a number of reasons, including her husband and her descendants.
A Fairy's Family
The Melusine's family also plays a big role in The Time of the Ghosts. Lil finds a husband she loves in Sebastian and together they have two children. Before they are born, however, Sebastian disappears without a trace. Prior to her husband vanishing, Lil was traveling a lot but ultimately settles down with her children once he's gone. This starkly contrasts the medieval figure of Melusine, whose husband's betrayal forced her to leave her home and wander instead.
In The Time of the Ghosts, Sebastian's disappearance could thus be seen as a betrayal which causes this reversed plot. But just like Jean d'Arras' Melusine, Lil suffers due to losing her husband and ultimately also her children.
Her son dies early, and her daughter grows up to despise her and her magic, sending Lil away and forbidding her contact with her family, whom she loves more than anything. She continuously attempts to watch over her descendants but can't reconnect with them due to her fairy-self.
In addition to losing her family, Lil also had to let go of several of her old identities throughout her life, leaving many friends behind as well. Giving up her identities can be compared to Jean d'Arras' Melusine losing her high status. This aspect is particularly apparent in the novel's "Tales of Melusine", where those who knew her fairy-self throughout life had a high opinion of her but eventually ended up dying before her, taking her status to the grave with them. Forced to be alone for years, Lil thus decides to give up on her fairy-self and immortality.
Melusine's ability to live happily at the end of the novel is only possible due to her husband finally returning and still being in love with her, as well as through the discovery that Kat is a descendant of hers. Kat who, instead of pushing her away like her daughter, longs to spend more time with her. She cares about Kat as she would about her own children and only manages to take on her fairy-self again because she wants to see her grow up and be with her husband again.
Jean d'Arras' Melusine does not get to experience this happiness as her relationship with Raymond doesn't end well. Gillian Polack thus flipped the medieval Melusine's story upside down.
A Fairy's Form
Another very significant common ground between the two versions is the Melusine's fairy form. Gillian Polack's Melusine is also depicted as a woman with a serpent's tail and golden wings, as well as scales, when she finally shows herself to Kat. In addition to her otherworldly appearance, she is also described as young and powerful, hinting at the magic and special abilities she possesses, just like her counterpart by Jean d'Arras.
Aside from taking on her fairy form, she is also able to fly, use telepathy, and can convince everyone to do what she desires. Furthermore, the novel hints at her ability to see the future when Melusine writes about giving a man the gift of foresight. This power was said to be used by the medieval Melusine. Lil also uses other types of magic, though what exactly she can do is never described in detail. Throughout the time when Lil doesn't deny her fairy form, she is also described as incredibly beautiful, enticing, and initially immortal.
A Fairy Tale Ending?
In conclusion, while Gillian Polack's and Jean d'Arras' Melusines share many traits with each other, like their powers, the loss of those they love and wanting to die as a human in the end, there are also stark differences between the two.
Lil was betrayed by her husband and child, not by being discovered as a Melusine, but by Sebastian's disappearance and her daughter being unaccepting of her magic. She does, however, end up getting a happy ending. Nevertheless, her ability to give up on her immortality and her fairy-self instead of being forced to shift once a week is the biggest difference in my opinion. But perhaps it is for that very reason, that Gillian Polack's Melusine is allowed a happy ending and can continue to live with her family, as she accepts her true self and is accepted as such by others.