Ubby's Underdogs – The Legend of The Phoenix Dragon is Brenton McKenna's debut graphic novel. It was published in 2011 by Magabala Books, an Aboriginal owned and led publishing house based in Broome, Western Australia. They say about themselves that their "commitment to developing new and emerging Indigenous writers, illustrators and one-time storytellers, sets [them] apart from other publishers" [1]. Brenton McKenna is a Yawuru artist from Broome. "The Yawuru people are the traditional owners of the lands and waters in and around Rubibi (the town of Broome) from Bangarangara to the yalimban (south) to Wirrjinmirr (Willie Creek) to the guniyan (north), and banu (east) covering Roebuck Plains and Thangoo pastoral leases, in the Kimberley region of northern Western Australia" [2]. So Ubby's Underdogs – The Legend of The Phoenix Dragon is a graphic novel written and drawn from an Aboriginal Australian perspective. Ubby's Underdogs turned into a trilogy, with Volume 2 (Ubby's Underdogs – Heroes Beginnings) being released in 2013 and Volume 3 (Ubby's Underdogs – The Return of the Dragons) following in 2019.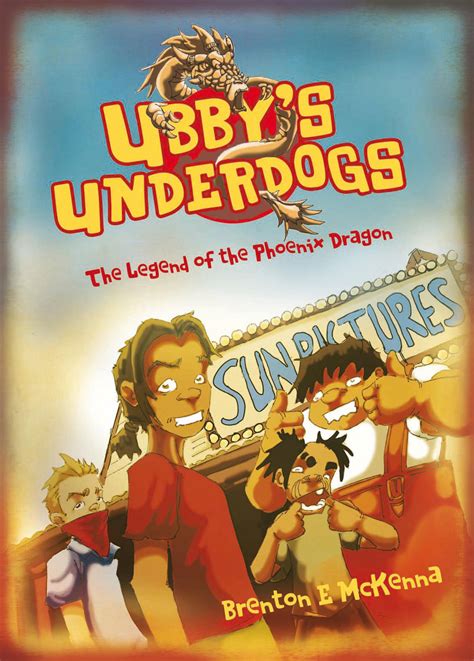 Brief summary: Ubby's Underdogs – The Legend of The Phoenix Dragon
Ubby's Underdogs – The Legend of The Phoenix Dragon is a visual-verbal medium, containing both text and illustrations. It consists of a "Cast of Characters" part, the prologue, a "Setting the Scene" sequence and the main plot. At the end, there are two parts explaining specific events in the story, followed by information about the author and acknowledgements. It has a total of 160 pages (but the pages are not numbered).
On the surface, Ubby's Underdogs – The Legend of The Phoenix Dragon may seem like your average young-adult-coming-of-age-good-vs.-evil-hero story. The graphic novel is set in the 1940s in a fictionalised version of Broome, McKenna's home town, and its contents were inspired by both McKenna's own and his grandmother's life experiences [3].
The Ubby's Underdogs' Broome is a small pearling town and its riches attract a wide range of people from all over the world, which makes its community very multicultural.
The story circles around Ubby, a streetwise Aboriginal girl, and her friends Fin (of Irish descent), Sel (of Malay descent) and Gabe (of Maori descent). Together, they are The Underdogs [3]. In the first volume, they meet Sai Fong, a Chinese girl, who has just arrived in Broome alongside her uncle Yupman Poe. They travelled from Shanghai to Broome because Sai Fong has a mysterious illness and her uncle hopes to find a cure there. Shortly after their arrival, Sai Fong makes the Underdogs' acquaintance. Together, they embark on a series of adventures that include street gang fights, a quest to find and free a baboon as well as a fight against an ancient creature.
Take a quick look at the world of Ubby and her friends here.
Analysis of some aspects in Ubby's Underdogs
While the graphic novel indeed "embraces a number of genres, including the hero's journey, coming-of-age narrative (bildungsroman), historical adventure, and magical realism" [4], it is by no means average. As Sly points out, "McKenna's colorful publications are entertaining and accessible to a wide readership, [but/and] serious discourses on race, ethnicity, cultural diversity, and gender are not far below the glossy surface" [4]. In this part, I will briefly be looking at McKenna's art style as well as the representation of race / multiethnicity, racism and migration in Ubby's Underdogs.
McKenna's art style is known to be very unique. John Thomas argues that "Brenton McKenna uses a presentational style very similar to that of Japanese Manga comics" [5]. The characters are drawn in a simple, iconic, cartoon-y way while the characters' faces are usually very expressive and, through this, emotions are transported very well and are easily discernible. A few examples taken from the graphic novel: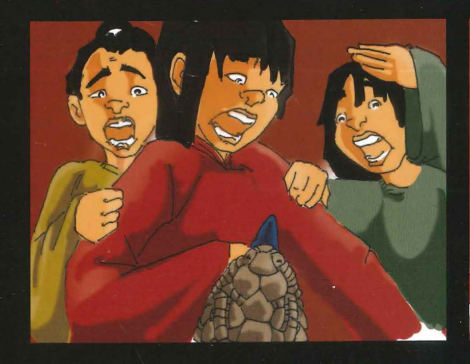 Furthermore, the Ubby's Underdogs series is very colourful and, according to Sly, McKenna uses "color schemes that are atmospheric, symbolic, and highly affective" [4].
An example for a symbolic use of colour that particularly stands out would be the prologue. In contrast to the other panels, these panels are sepia coloured and have frayed frames. This can be explained by the prologue being the recounting of a (legendary) past event.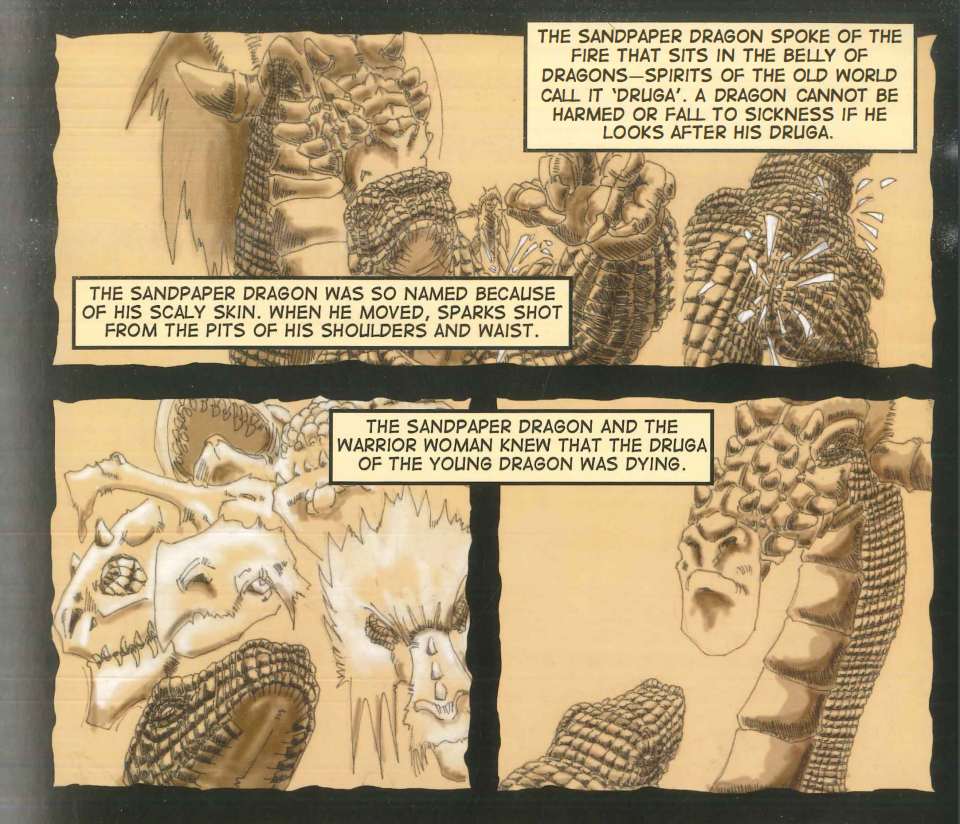 The following panel is quite unique and stands out because here the shift from past to present is represented through a shift from sepia to colour within one panel.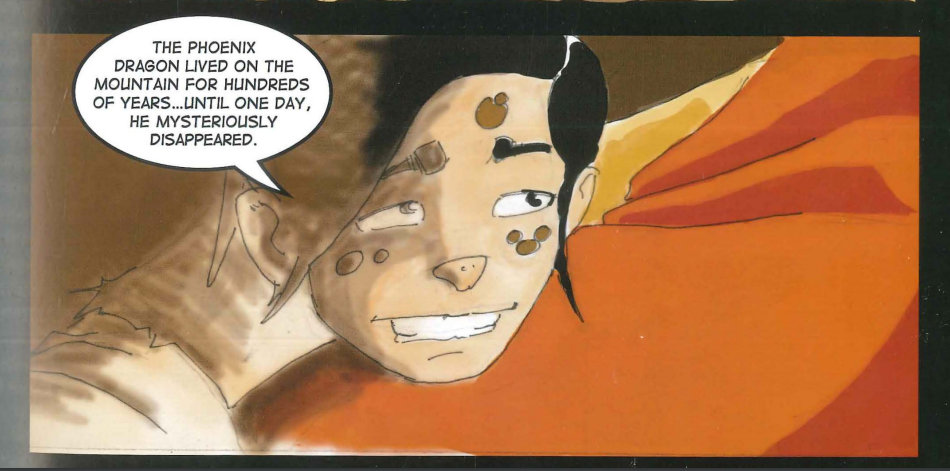 It can also be seen as a bit of a foreshadowing because, as the reader will later learn, Sai Fong is connected to the past and to the Sandpaper Dragon in a way (but no spoilers here!).
As previously mentioned, Broome is a multicultural and multiethnic town. In Ubby's Underdogs, this is represented trough the various characters belonging to different ethnic groups. I have already mentioned the cultural / ethnic backgrounds of the Underdogs (as you might have noticed, they are a very diverse group). And there are other gangs in Broome, too, for instance the Pearl Juniors, whose members are "the sons of wealthy pearl masters" [3] (all white), as well as the other gangs named and shown in the image below: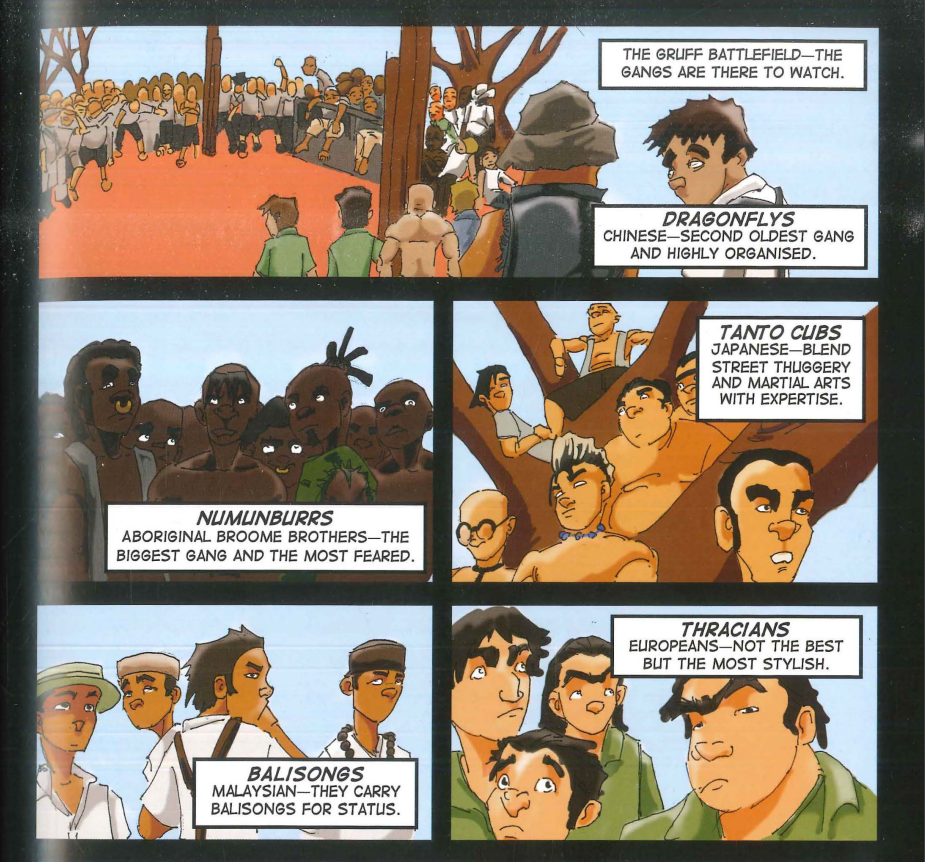 As pointed out by Sly, "tensions arising between gangs are usually settled by farcical competitive sporting events" [4], namely Gruff and the Dolby Dance. These two sporting events are the aforementioned specific events explained in detail at the end of the graphic novel.
McKenna also does not shy away from addressing topics like racism and colonialism, as can be seen / read in the following images: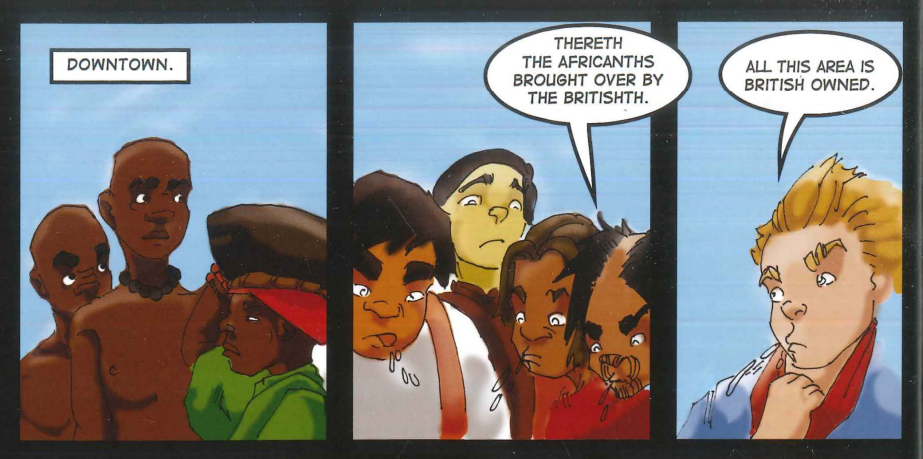 As Xu Dhaozhi points out, this scene (Figure 13) in particular "accentuates the absurdity and injustice of the bureaucratic control over Aboriginal people at that time. Though born in Broome, Ubby is not allowed to roam freely in what should be her home country. Dubbed as an underdog, Ubby represents an Aboriginal diasporic figure in the peripheral, marginalised space of society" [6].
The topic of migration is also featured in Ubby's Underdogs – The Legend of The Phoenix Dragon and was already mentioned in the previous parts. It is mainly represented through Broome's multiethnic society and through Sai Fong and her uncle, who emigrated from Shanghai, China. Therefore, the graphic novel was very well suited to be read / discussed in our "Migration in Visual Narratives" seminar.
Conclusion
Ubby's Underdogs – The Legend of The Phoenix Dragon is a colourful, multi-layered and multifaceted graphic novel, beautifully written and illustrated by Brenton McKenna. The story, "with a focus on the fellowship, mutual respect, and collaboration of a group of mixed-race youngsters, generates high appeal for indigenous and non-indigenous readers alike" [4], as Sly remarks. Despite the danger of stereotyping characters in comics and graphic novels, as expressed by some theorists, McKenna successfully creates individual, diverse characters who bring a multitude of perspectives to the table. After finishing Volume 1, I couldn't wait to read the other two volumes. If you are intrigued now, too, all three Ubby's Underdogs volumes are available at the ULB in Düsseldorf.
---
Sources
[1] About Us (n.d.) https://www.magabala.com/pages/about-us
[2] Ngaji Gurrjin Welcome (n.d.) https://www.yawuru.org.au/?doing_wp_cron=1679243120.6965720653533935546875
[3] McKenna, B. E. (2011). Ubby's Underdogs, The Legend of The Phoenix Dragon. Magabala Books Aboriginal Corporation.
[4] Sly, C. (2022). Between the Saltwater and the Desert: Indigenous Australian Tales from the Margins. Graphic Novels and Comics as World Literature. Ed. James Hodapp. New York,: Bloomsbury Academic, 191, 193, 194. Literatures as World Literature. Bloomsbury Collections. http://dx.doi.org/10.5040/9781501373442.ch-9
[5] Thomas, J. (2019). 'Ubby's underdogs' : a new vision for Australia and the future of English teaching. English in Australia, 54(1), 53–58. https://search.informit.org/doi/10.3316/aeipt.224724
[6] Xu, D. (2018). Liminality and Communitas in Literary Representations of Aboriginal and Asian Encounters, Journal of Australian Studies, 42:4, 481, DOI: 10.1080/14443058.2018.1531296
Figure 1: https://tse4.mm.bing.net/th?id=OIP.nkP3QGe_XIDTjfIk8dDiNQHaKV&pid=Api
Figure 2: https://tse1.mm.bing.net/th?id=OIP._RK1NSUPd5I_E9ACrBrX7QAAAA&pid=Api
Figure 3: https://tse3.mm.bing.net/th?id=OIP.gKPumh3d9Gb0to_h9IaH5QAAAA&pid=Api
Figures 4-13: McKenna, B. E. (2011). Ubby's Underdogs, The Legend of The Phoenix Dragon. Magabala Books Aboriginal Corporation.