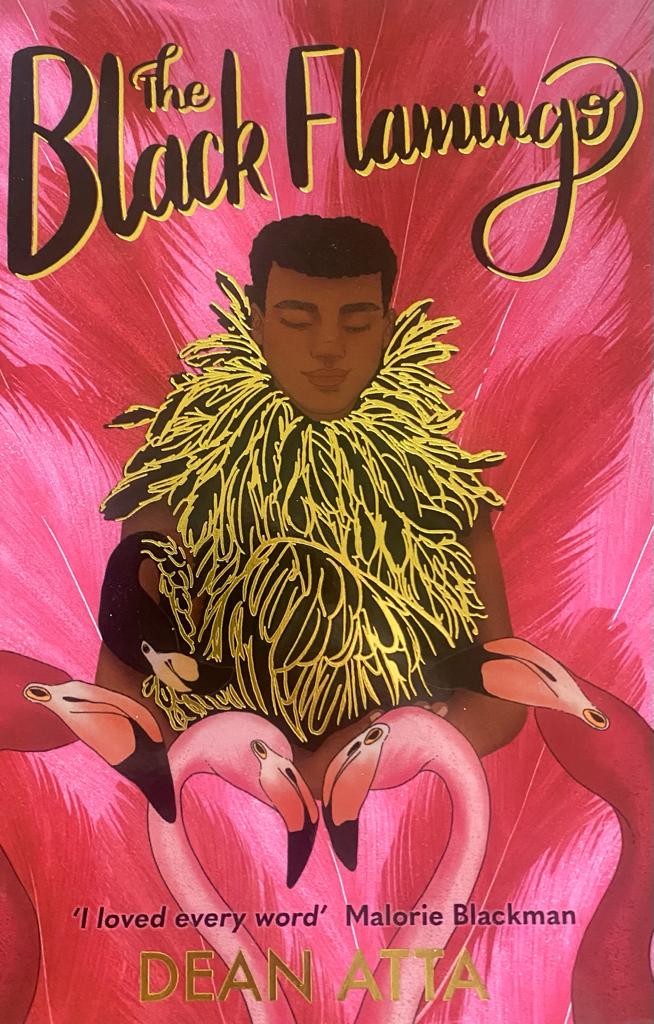 How can a seemingly simple story of a boy coming of age and coming to terms with his identity be transformed into a visual journey, a tale telling of its time? In Dean Atta's The Black Flamingo (2019), this is achieved with a mix of stylistic choices: the novel features a beautiful mix of poetry, illustrations that underline the narrative, and modern means of visual communication like chat rooms. While this makes this Young Adult novel easy and quick to read, it is not a light read necessarily – the story of protagonist Michael, a queer boy with a mixed Cypriot-Jamaican heritage, is not that light and simple at all.
Michael is brought up by a single mother with little contact to his father, struggling to fully connect to either of his parents' cultures, or the one of the country he grows up in. The reader gets to accompany him through his most formative years and memories: from a six year old boy who desperately wants a Barbie for his birthday, even though his friends find it a bit strange; a boy that is bullied at school because he doesn't like to brawl and rather sings; a boy that tries to explore his sexuality in an environment in which nobody else seems to relate to his feelings; and finally one, who learns to have the courage and self-respect to embrace his identity, no matter what expectations others lay on him. While important topics like trauma, harassment, and drug abuse are addressed, the reader doesn't finish the book with a heavy heart, but with a new hope and confidence – Michael has been through a lot, but in the end, he gets through all of it and finds himself to be happy. 
Atta's novel is one of a kind for two reasons: the intersectionality that is often left out in the most famous coming of age stories in popular media, and the intermediality already addressed before. Intersectionality in this context refers to how Michael's identity is made up of a variety of elements. He has parents with strongly differing cultural heritages, both of which do not completely fit in with Michael's English school environment and friend group, but he is also a member of the queer community, which leaves him doubly marginalized and prone to two kinds of discrimination, making his experiences unique to his persona. 
Intermediality allows the reader to dive into Michael's world. We experience his thoughts and feelings firsthand through the poetry he writes, beautifully illustrated in form of real pages of a notebook at times, see pictures of what he is referring to which emphasize his inner world, and can read the text messages he exchanges with peers in ways in which classic written text could not, for example by the implementation of emojis with specific cultural and generational meanings attached to them.
Most importantly though, Atta tells a story that is believable. Even if Michael is one of a kind with an arrange of specific experiences, there is always something in them that the reader can relate to in one way or another. There is nothing over-the-top fairy tale-esque or obviously forced traumatic happening – what Michael faces along his journey is as things realistically could be, and have been for some, and Atta tells them in the most authentic manner.


Dean Atta's The Black Flamingo is the novel we all would have wished to have had while growing up. The bitter-sweet story shows the ugly truths of growing up doubly marginalized in an artistic way, with the good and the bad, without painting a grim picture. If you plan to invest your time in a novel, invest it in this one!