As I was unable to join today's session, I'm going to discuss the process of video editing and subtitling which we began last week instead on focusing on the topics discussed in class.
The small amount of video editing experience I had going into this project didn't quite prepare me for just how finicky this ended up being. We were kindly provided with translated and timestamped subtitles for our respective videos, but the editing process was much more complex than just copy-pasting the text and numbers. There are some general rules that good subtitles need to abide by in order to fulfill their purpose. Ultimately, I needed to adjust most subtitles to a certain degree to meet those requirements.
An Arduous Process
The size and letter spacing of the subtitles is something that can easily be adjusted based on intuition alone, but the same cannot be said about the two main problems I encountered:
Firstly, the duration and pacing of the subtitles. One full second is generally considered to be the minimum, though this obviously only works for very short subtitles. In some cases, a storyteller may speak rather quickly, forcing the subtitles to proceed and change at a very fast rate, leading to a high amount of characters per second (CPS), which becomes hard to read. There was a section in one of the videos where I ultimately had to combine two separate subtitles into one because even just the small pause between them pushed the CPS beyond 30, which is much too fast for most people. Since subtitles are meant to promote accessibility, this obviously wouldn't do.
Secondly, dealing with multiple speakers. In one video, there is a second person who interjects into the story with a short comment and later joins the storyteller in song. The problem was that, aside from the song, both people didn't really speak simultaneously, making a shared subtitle for both feel strange as it would either begin too early before the person in question started speaking, or linger too long, which also just felt slightly off. As a result, I split the subtitles for the storyteller and the audience member into two separate regions that could appear and disappear separately. I also colored them differently, so that it was easier to tell at a glance who was speaking.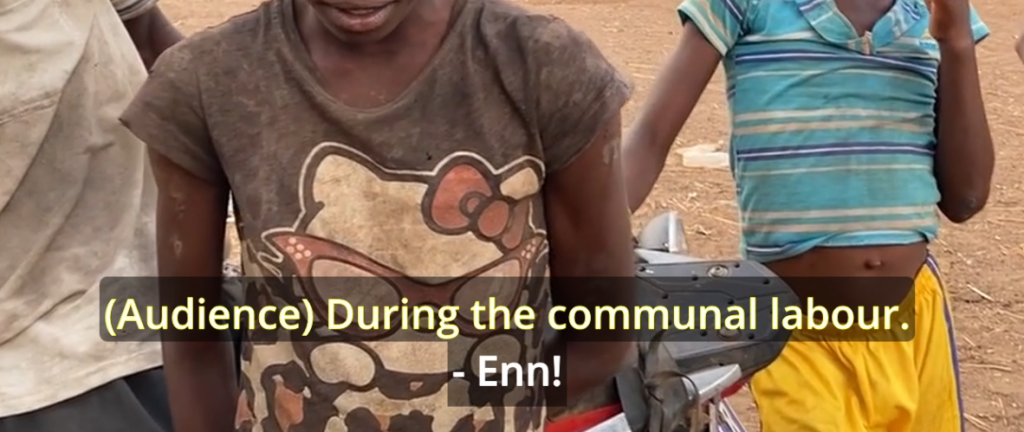 In conclusion:
Orature like what we have been working with in this course is meant to be performed. Making those performances accessible and understandable to people who don't speak the language of the storyteller is an essential part in the process of demarginalization.
Working on editing and subtitling these videos has given me a new appreciation for anyone who has ever provided high-quality subtitles for any kind of media. It's time-consuming, but ultimately very important work, not just in the context of our course.