Introduction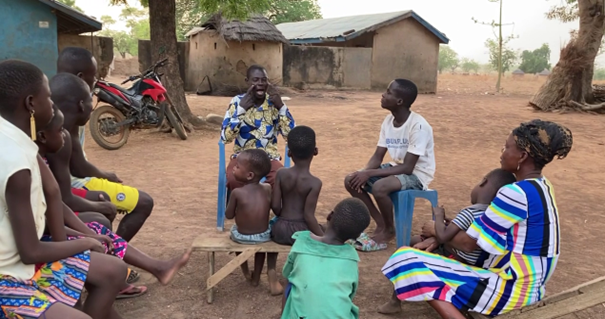 Hello everyone! This blog entry was meant to be published a while ago – sorry for the delay! Luckily, Anne also published a blog entry on that lesson of the "Demarginalising Orature – Translating minor forms into the digital age" seminar. I hope you have all read it, it was very informative and I can only add a few things.
The lesson was about Konkomba folktales in relation to language and culture. (For my fellow students: you can find the presentation on the respective lesson on Sciebo, it is titled "Folktales as expressive tools for language and culture_by Tasun Tidorchibe"). As I already mentioned, you can find a concise summary of the lesson and presentation in Anne's entry (Folktales: On the Preservation of Culture and Language).
Why the Wasp has a Tiny Waist
Something Tasun said in the seminar that stuck with me was how folktales in general have multiple important functions. In fact, they do not only have entertainment qualities but also contain moral lessons and are used as pedagogical tools. They can teach the values and customs of a specific culture. One example for this would be the folktale "Why the Wasp has a Tiny Waist", which we have also talked about in the seminar.
You can watch a video here, in which Waja Ngnalbu recounts the folktale. In addition to this, you can find more information on the folktale, including a translation into English and a glossary with Likpakpaln words and phrases, here. Since the wasp does not contribute to communal life, it has to perform the kinachuŋ dance by itself. This dance is usually performed in a large group. But the wasp is all alone, thus has to carry all the kinachuŋ instruments by itself around its body. This is what gives the wasp its tiny waist. By now, you can surely tell what the moral of this story is?
Conclusion
To sum it up, the lesson successfully conveyed the cultural importance of Konkomba folktales and the Likpakpaln language. Therefore, it is important to preserve them (e.g. by making them accessible to a broader audience). Hopefully, this blog entry can play a tiny part in this.